Linux: Accel-ppp server
Accel-ppp is a high permormance pptp/L2tp/PPPoE/IPoE server for Linux. The advantage of Accel-ppp is that it is not only specialized for one technique, as it has various popular VPN services/techniques that can be aggregated into one server application.
With this guide, you will be able to authenticate Splynx customers with the Accel-ppp Server, use tariffs limits, set FUP Rules, use Session disconnect and others.
INSTALLING ACCEL-PPP
Install packages for compilation
sudo apt install cmake libpcre3-dev libssl-dev
Get accel–ppp source files
git clone git://git.code.sf.net/p/accel-ppp/code accel-ppp-code
mkdir accel-build
cd accel-build
Build accel-ppp
cmake -DRADIUS=TRUE ../accel-ppp-code/
make
sudo make install
Configuring Splynx
Add new NAS type "Accel"
Config -> Networking -> NAS types -> Add
---
Configure Accel NAS type
Config - Networking - Radius - NAS config - NAS Type
Choose "Accel", "click Load"
Paste in the "Rate-Limit attributes" field:
PPPD-Upstream-Speed-Limit={{ rx_rate_limit /1000 }}
PPPD-Downstream-Speed-Limit={{ tx_rate_limit/1000 }}
Click "Save"

---
Configure Splynx RADIUS
Add it to the end of /etc/freeradius/dictionary
$INCLUDE                   /usr/share/freeradius/dictionary.accel
Create the file /usr/share/freeradius/dictionary.accel with the following contents:
# Limit session traffic
ATTRIBUTE Session-Octets-Limit 227 integer
# What to assume as limit - 0 in+out, 1 in, 2 out, 3 max(in,out
ATTRIBUTE Octets-Direction 228 integer
# Connection Speed Limit

ATTRIBUTE PPPD-Upstream-Speed-Limit 230 integer
ATTRIBUTE PPPD-Downstream-Speed-Limit 231 integer
ATTRIBUTE PPPD-Upstream-Speed-Limit-1 232 integer
ATTRIBUTE PPPD-Downstream-Speed-Limit-1 233 integer
ATTRIBUTE PPPD-Upstream-Speed-Limit-2 234 integer
ATTRIBUTE PPPD-Downstream-Speed-Limit-2 235 integer
ATTRIBUTE PPPD-Upstream-Speed-Limit-3 236 integer
ATTRIBUTE PPPD-Downstream-Speed-Limit-3 237 integer
ATTRIBUTE Acct-Interim-Interval 85 integer
ATTRIBUTE Acct-Input-Gigawords    52      integer
ATTRIBUTE Acct-Output-Gigawords   53      integer
---
Add new router:
Networking -> Routes -> Add
Title – provide a desired name

NAS type – Accel (which we've created in the previous steps)

IP/Host – IP address of accel-ppp server

Radius secret – should be the same as in the file /etc/accel-ppp.conf on the accel-ppp server (section [radius], parameter "server")

NAS IP - should be the same as in the file /etc/accel-ppp.conf on the accel-ppp server (section [radius], parameter "nas-ip-address")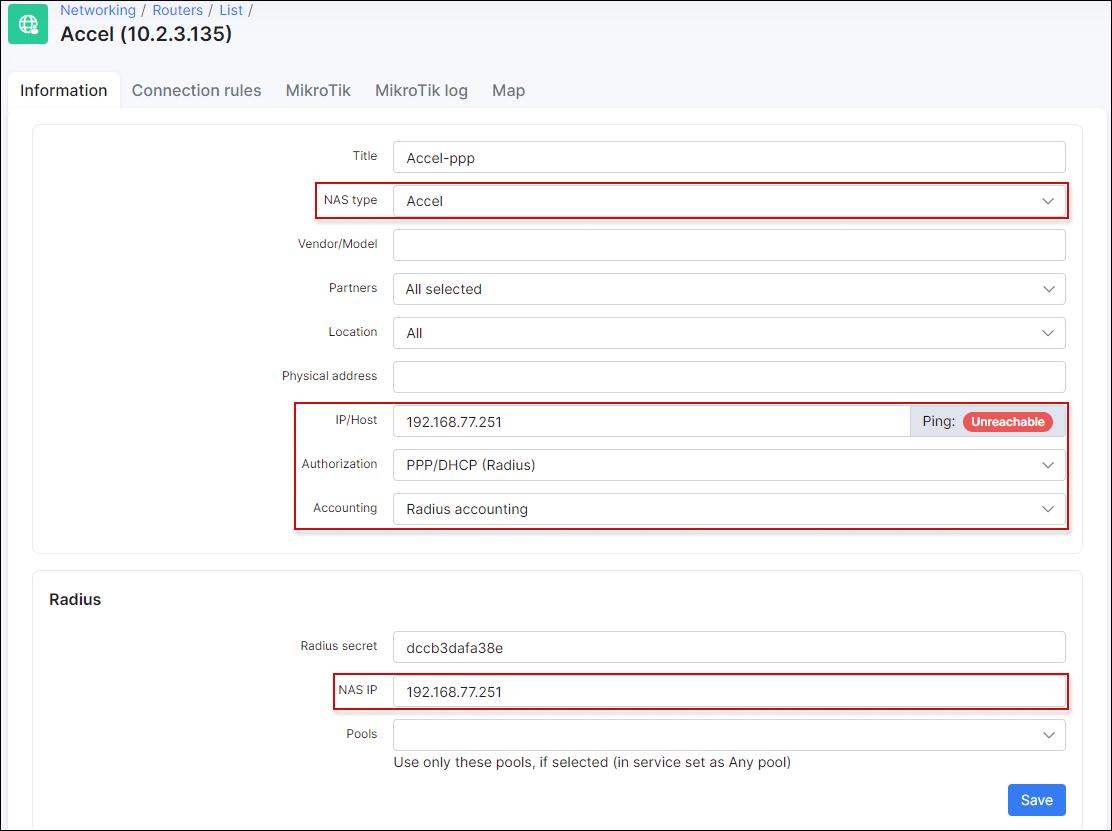 ---
Add IP-pool for users
Networking - IPv4 Networks – Add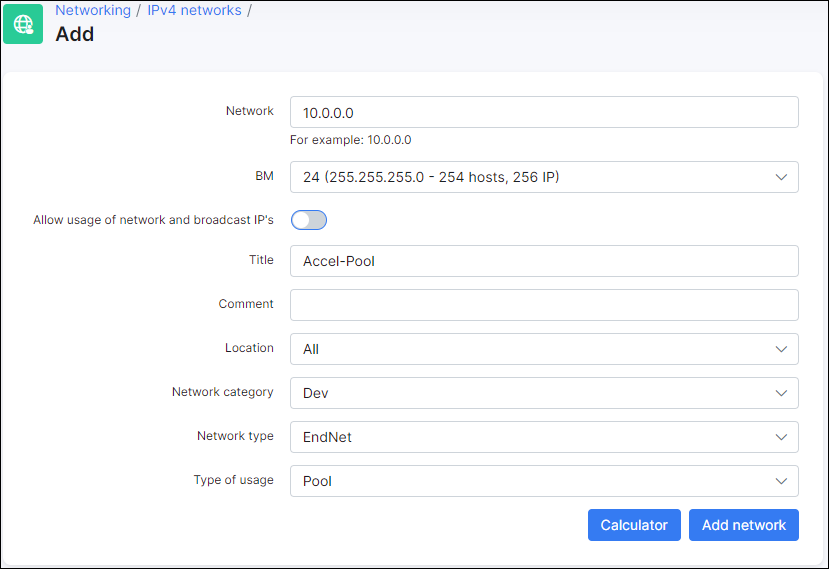 ---
Configuring Accel server
sudo cp /etc/accel-ppp.conf.dist /etc/accel-ppp.conf
Edit default config file /etc/accel-ppp.conf
[modules]
log_file
#log_syslog
#log_tcp
#log_pgsql

pptp
#l2tp
#sstp
pppoe
#ipoe

#uncomment auth methods to your need
auth_mschap_v2
#auth_mschap_v1
#auth_chap_md5
#auth_pap

radius
#chap-secrets

#ippool
pppd_compat

shaper
#net-snmp
#logwtmp
#connlimit

#ipv6_nd
#ipv6_dhcp
#ipv6pool

#net-accel-dp

[core]
log-error=/var/log/accel-ppp/core.log
thread-count=4

[common]
#single-session=replace
#sid-case=upper
#sid-source=seq
#max-sessions=1000

[ppp]
verbose=1
min-mtu=1000
mtu=1492
mru=1492
#accomp=deny
#pcomp=deny
#ccp=0
#check-ip=0
#mppe=require
ipv4=require
#ipv6=deny
#ipv6-intf-id=0:0:0:1
#ipv6-peer-intf-id=0:0:0:2
#ipv6-accept-peer-intf-id=1
lcp-echo-interval=10
#lcp-echo-failure=3
### !!!
lcp-echo-timeout=20
unit-cache=1
#unit-preallocate=1

[auth]
#any-login=0
#noauth=0

[pptp]
verbose=1
echo-interval=30
#ifname=pptp%d

[pppoe]
verbose=1
#ac-name=xxx
#service-name=yyy
#pado-delay=0
#pado-delay=0,100:100,200:200,-1:500
called-sid=mac
#tr101=1
#padi-limit=0
#ip-pool=pppoe
#ifname=pppoe%d
#sid-uppercase=0
#vlan-mon=eth0,10-200
#vlan-timeout=60
#vlan-name=%I.%N
#interface=eth1,padi-limit=1000,net=accel-dp
#interface name for running pppoe server
interface=enp0s3

[l2tp]
verbose=1
#dictionary=/usr/local/share/accel-ppp/l2tp/dictionary
#hello-interval=60
#timeout=60
#rtimeout=1
#rtimeout-cap=16
#retransmit=5
#recv-window=16
#host-name=accel-ppp
#dir300_quirk=0
#secret=
#dataseq=allow
#reorder-timeout=0
#ip-pool=l2tp
#ifname=l2tp%d

[sstp]
verbose=1
#cert-hash-proto=sha1,sha256
#cert-hash-sha1=
#cert-hash-sha256=
#ssl=1
#ssl-ciphers=DEFAULT
#ssl-prefer-server-ciphers=0
#ssl-ca-file=/etc/ssl/sstp-ca.crt
#ssl-pemfile=/etc/ssl/sstp-cert.pem
#ssl-keyfile=/etc/ssl/sstp-key.pem
#host-name=domain.tld
#timeout=60
#hello-interval=60
#ip-pool=sstp
#ifname=sstp%d

[ipoe]
verbose=1
username=ifname
#password=username
lease-time=600
renew-time=300
max-lease-time=3600
#unit-cache=1000
#l4-redirect-table=4
#l4-redirect-ipset=l4
#l4-redirect-on-reject=300
#l4-redirect-ip-pool=pool1
shared=0
ifcfg=1
mode=L2
start=dhcpv4
#start=UP
#ip-unnumbered=1
#proxy-arp=0
#nat=0
#proto=100
#relay=10.10.10.10
#vendor=Custom
#weight=0
#attr-dhcp-client-ip=DHCP-Client-IP-Address
#attr-dhcp-router-ip=DHCP-Router-IP-Address
#attr-dhcp-mask=DHCP-Mask
#attr-dhcp-lease-time=DHCP-Lease-Time
#attr-dhcp-opt82=DHCP-Option82
#attr-dhcp-opt82-remote-id=DHCP-Agent-Remote-Id
#attr-dhcp-opt82-circuit-id=DHCP-Agent-Circuit-Id
#attr-l4-redirect=L4-Redirect
#attr-l4-redirect-table=4
#attr-l4-redirect-ipset=l4-redirect
#lua-file=/etc/accel-ppp.lua
#offer-delay=0,100:100,200:200,-1:1000
#vlan-mon=eth0,10-200
#vlan-timeout=60
#vlan-name=%I.%N
#ip-pool=ipoe
#idle-timeout=0
#session-timeout=0
#soft-terminate=0
#check-mac-change=1
#calling-sid=mac
#local-net=192.168.0.0/16
interface=eth0

[dns]
# dns for users
# !!! for some reason you must use both: dns1 and dns2 (otherwise mikrotik pppoe-client try to connect twice and splynx radius rejects this)
dns1=192.168.77.1
dns2=8.8.8.8

[wins]
#wins1=172.16.0.1
#wins2=172.16.1.1

[radius]
dictionary=/usr/local/share/accel-ppp/radius/dictionary
# whatever you want (not used in Splynx)
nas-identifier=accel-ppp
# Ip of accel (ip of this server). This IP is sent to RADIUS for authorize accel server as router
nas-ip-address=192.168.77.251
# gateway for users PPP sessions
gw-ip-address=10.0.0.1
# IP of splynx, secret, radius ports
server=192.168.77.204,password123,auth-port=1812,acct-port=1813,req-limit=50,fail-timeout=0,max-fail=10,weight=1
# IP of accel, incoming port and secret, for allow session disconect and FUP
dae-server=127.0.0.1:3799,password123
verbose=1
#timeout=3
#max-try=3
#acct-timeout=120
#acct-delay-time=0
#acct-on=0
#attr-tunnel-type=My-Tunnel-Type

[client-ip-range]
#ip addresses from which users can connect to accel
#disable=any
#10.0.0.0/8
disable

#[ip-pool]
#gw-ip-address=192.168.0.1
#vendor=Cisco
#attr=Cisco-AVPair
#attr=Framed-Pool
#192.168.0.2-255
#192.168.1.1-255,name=pool1
#192.168.2.1-255,name=pool2
#192.168.3.1-255,name=pool3
#192.168.4.1-255,name=pool4,next=pool1
#192.168.4.0/24

[log]
log-file=/var/log/accel-ppp/accel-ppp.log
log-emerg=/var/log/accel-ppp/emerg.log
log-fail-file=/var/log/accel-ppp/auth-fail.log
#log-debug=/dev/stdout
#syslog=accel-pppd,daemon
#log-tcp=127.0.0.1:3000
copy=1
#color=1
#per-user-dir=per_user
#per-session-dir=per_session
#per-session=1
level=3

#[log-pgsql]
#conninfo=user=log
#log-table=log

[pppd-compat]
verbose=1
#ip-pre-up=/etc/ppp/ip-pre-up
#ip-up=/etc/ppp/ip-up
#ip-down=/etc/ppp/ip-down
#ip-change=/etc/ppp/ip-change
radattr-prefix=/var/run/radattr
#fork-limit=16

[chap-secrets]
#gw-ip-address=192.168.100.1
#chap-secrets=/etc/ppp/chap-secrets
#encrypted=0
#username-hash=md5

[shaper]
#attr=Filter-Id
#down-burst-factor=0.1
#up-burst-factor=1.0
#latency=50
#mpu=0
#mtu=0
#r2q=10
#quantum=1500
#moderate-quantum=1
#cburst=1534
#ifb=ifb0
up-limiter=police
down-limiter=tbf
#leaf-qdisc=sfq perturb 10
#leaf-qdisc=fq_codel [limit PACKETS] [flows NUMBER] [target TIME] [interval TIME] [quantum BYTES] [[no]ecn]
#rate-multiplier=1
#fwmark=1
verbose=1
attr-down=PPPD-Downstream-Speed-Limit
attr-up=PPPD-Upstream-Speed-Limit

[cli]
verbose=1
telnet=127.0.0.1:2000
tcp=127.0.0.1:2001
#password=secretpass
#sessions-columns=ifname,username,ip,ip6,ip6-dp,type,state,uptime,uptime-raw,calling-sid,called-sid,sid,comp,rx-bytes,tx-bytes,rx-bytes-raw,tx-bytes-raw,rx-pkts,tx-pkts

[snmp]
master=0
agent-name=accel-ppp

[connlimit]
limit=10/min
burst=3
timeout=60

[ipv6-pool]
#gw-ip6-address=fc00:0:1::1
fc00:0:1::/48,64
delegate=fc00:1::/36,48

[ipv6-dns]
#fc00:1::1
#fc00:1::2
#fc00:1::3
#dnssl=suffix1.local.net
#dnssl=suffix2.local.net.

[ipv6-dhcp]
verbose=1
pref-lifetime=604800
valid-lifetime=2592000
route-via-gw=1

[accel-dp]
socket=/var/run/accel-dp.sock
Create and edit /etc/init.d/accel-ppp
#!/bin/sh
# /etc/init.d/accel-pppd: set up the accel-ppp server
### BEGIN INIT INFO
# Provides:          accel-ppp
# Required-Start:    $networking
# Required-Stop:     $networking
# Default-Start:     2 3 4 5
# Default-Stop:      0 1 6
### END INIT INFO

set -e

PATH=/bin:/usr/bin:/sbin:/usr/sbin:/usr/local/sbin;
ACCEL_PPTPD=`which accel-pppd`
. /lib/lsb/init-functions

if test -f /etc/default/accel-ppp; then
    . /etc/default/accel-ppp
fi

if [ -z $ACCEL_PPPTD_OPTS ]; then
  ACCEL_PPTPD_OPTS="-c /etc/accel-ppp.conf"
fi

case "$1" in
  start)
        log_daemon_msg "Starting accel-ppp server" "accel-pppd"
        if start-stop-daemon --start --quiet --oknodo --exec $ACCEL_PPTPD -- -d -p /var/run/accel-pppd.pid $ACCEL_PPTPD_OPTS; then
            log_end_msg 0
        else
            log_end_msg 1
        fi
  ;;
  restart)
        log_daemon_msg "Restarting accel-ppp server" "accel-pppd"
        start-stop-daemon --stop --quiet --oknodo --retry 180 --pidfile /var/run/accel-pppd.pid
        if start-stop-daemon --start --quiet --oknodo --exec $ACCEL_PPTPD -- -d -p /var/run/accel-pppd.pid $ACCEL_PPTPD_OPTS; then
            log_end_msg 0
        else
            log_end_msg 1
        fi
  ;;

  stop)
        log_daemon_msg "Stopping accel-ppp server" "accel-pppd"
        start-stop-daemon --stop --quiet --oknodo --retry 180 --pidfile /var/run/accel-pppd.pid
        log_end_msg 0
  ;;

  status)
    do_status
  ;;
  *)
    log_success_msg "Usage: /etc/init.d/accel-ppp {start|stop|status|restart}"
    exit 1
    ;;
esac

exit 0
Create Accel service
sudo chmod +x /etc/init.d/accel-ppp
sudo update-rc.d accel-ppp defaults
Add to the end of /usr/local/share/accel-ppp/radius/dictionary
$INCLUDE       dictionary.accel
Create the file /usr/local/share/accel-ppp/radius/dictionary.accel with the following content:
# Limit session traffic
ATTRIBUTE Session-Octets-Limit 227 integer
# What to assume as limit - 0 in+out, 1 in, 2 out, 3 max(in,out)
ATTRIBUTE Octets-Direction 228 integer
# Connection Speed Limit
ATTRIBUTE PPPD-Upstream-Speed-Limit 230 integer
ATTRIBUTE PPPD-Downstream-Speed-Limit 231 integer
ATTRIBUTE PPPD-Upstream-Speed-Limit-1 232 integer
ATTRIBUTE PPPD-Downstream-Speed-Limit-1 233 integer
ATTRIBUTE PPPD-Upstream-Speed-Limit-2 234 integer
ATTRIBUTE PPPD-Downstream-Speed-Limit-2 235 integer
ATTRIBUTE PPPD-Upstream-Speed-Limit-3 236 integer
ATTRIBUTE PPPD-Downstream-Speed-Limit-3 237 integer
ATTRIBUTE Acct-Interim-Interval 85 integer
ATTRIBUTE Acct-Input-Gigawords    52      integer
ATTRIBUTE Acct-Output-Gigawords   53      integer
Start accel service
sudo service accel-ppp start
Connection
You must configure your accel-ppp server as a router (NAS) Example:
sudo sysctl net.ipv4.ip_forward=1
sudo iptables -t nat -A POSTROUTING -o enp0s3 -j MASQUERADE
enp0s3 is the name of accel's WAN interface
Restart Splynx RADIUS
Config – Networking – Radius – Restart Radius
Restart accel service
sudo service accel-ppp restart
Now you can connect to the accel-ppp server. Create PPPoE, PPTP or L2TP connections and connect