Customer services
It is possible to associate different services for every customer: Internet services, Voice services and Custom services. In order to add a new service for the customer, select the Customer view and click Add service or + sign next to the service (make sure customer is in Active status).
A window will pop up and it will be possible to select the service.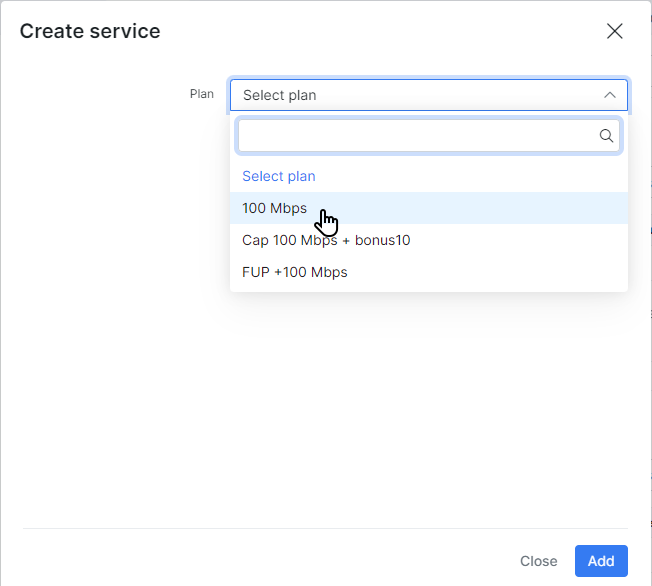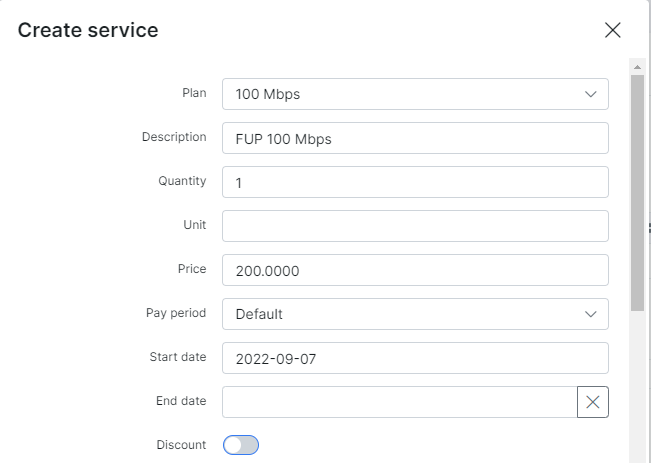 Plan - the tariff (Internet, Voice, Custom)
Description - a description of the tariff (optional)
Quantity - the quantity of the service
Unit - a unit of measurement is a definite magnitude of a quantity (if using for invoices - for example: m, ft, etc.)
Price - the price (custom price can be used that differs from service price)
Pay period - pay period for this service
Start date - when the service will start
End date - when the service will end
Discount - it is possible to set a discount with the percentage, start and end dates of the discount

Status - the options are Active, Disabled, Stopped, Pending, Archived.

Active - Status that client needs to be on to function.

Disabled - Status when data cap has been reached. Can also be used when assuming that customer will no longer use the service.

Stopped - Used to temporary disable the service. Will be set automatically if customer status is changed to Inactive, when customer will be activated, service status will be automatically changed to Active.

Pending - Status while we wait for another service to activate.

Archived - Archived for future information.
Tariff options
Router - The router that API will use to connect to (for all API functions - Shaping, contention, address lists)

This is only required when using API authentication methods in Networking settings

Login - the login used in services such as PPPoE or Hotspot. Login must be unique in active services.

Password - the password used in services

If you don't create a password the password from the Main Information page will be used.

Taking IPv4 - the options are None (Router will assign IP), Permanent IP, Dynamic IP. (Make sure the IP's network is the same type of assignment when creating it in IPv4 manager)

IPv4 - IP address which will be assigned to customer's device. Available only when Taking IPv4=Permanent IP.

Additional network - this is customer's network. Network route to this network will be added on the provider's router (NAS). Available only when Taking IPv4=Permanent IP.

IPv4 Pool - the options are Any pool or specific pool. Available only when Taking IPv4=Dynamic IP.

Mac(s) - MAC address(es). Separated by comma.

Only the first MAC address will be used if Authorization/Accounting for the router is Hotspot (Users) / API Accounting or PPP (Secrets) / API Accounting

Port ID - the port ID
You can edit a service, schedule a future change, change the plan, view the graph for the service, apply additional discounts, delete or geolocate the service by these actions.